MyData 2019 conference takes place 25-27 September 2019
in Helsinki, Finland
Venue: Wanha Satama
What kinds of topics are covered?
The topics covered at MyData 2019 are divided into nine topic tracks with multiple sessions in each track. Click on the track to read more about it's content.
Plus a lunch-hour Demo Lounge both on Thursday (12:15-13:30) and Friday (13:00-14:30).
What's in store?

The issues around personal data are far too complex for any one person, organisation, or sector to solve alone. We need each other!
Business

Presentations taking a business perspective to MyData consider how businesses can demonstrate that their commercial models support their consumers ethically and overcome the convenience apathy, whilst showcasing that ethical business is better business. Discussions around the conflicts of interest, whether financial incentivisation works, how to ensure individual empowerment over data usage is implemented and maintained, are encouraged.

Legal

The legal perspective of MyData, and personal data in general, approaches this complex set of issues from the perspective of how different forms of legislation and regulation (and their enforcement) can provide ingredients for solutions that enable the shift to a fair and sustainable digital world.

Tech

The tech perspective on MyData emphasises the role of technology in addressing challenges related to personal data and human-centric digital services. Some may argue that the rapid advances in technology witnessed over the past several decades have outpaced developments in other areas, such as law, that aim to protect privacy. The MyData community aims to showcase and promote how technology can also be wielded towards the benefit of individuals and especially to protect inherent human rights.

Society

As individuals and societies, the stakes around personal data are high. The societal perspective of MyData seeks to tackle these stakes head on, exploring in both critical and creative ways how individuals, communities and societies can use, share and benefit from personal data to support a fair and sustainable data economy for all.
Conference structure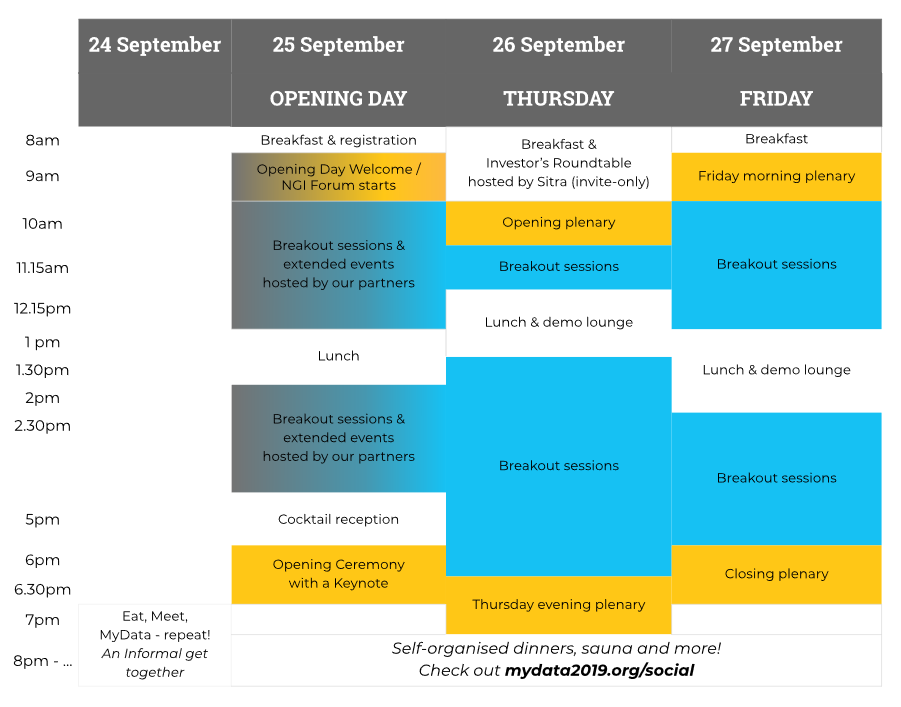 "MyData was the most social conference I've ever been to!"
— Participant feedback 2018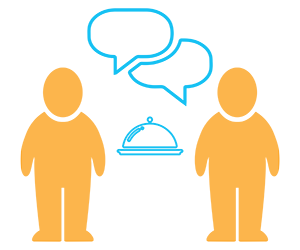 There will be exciting social programme in addition to the main programme, including
24th September an informal get together at Bruuveri
25th September and 26th September – self-organised dinners / pre-reserved restaurants (self-paid)
26th September – SAUNA visit, essential for getting a proper Finland experience!
27th September – AFTERPARTY!
See more in the Social Programme page!
The MyData conference creates space to explore critical digital rights issues with a committed and supportive community. It's the place to continue vital work to build power and define our digital futures. And it's fun!

– Bianca Wylie, Senior Fellow at Centre for International Governance Innovation