At MyData 2019, we will use an audience engagement system Screen.io in all sessions. It provides functionalities like polls and Q&A message wall.
The aim is to allow audience to interact with each other and the presenters, provide comments and insights.
The digital tool should not substitute natural discussion, but extend it! Link to the online participation is http://screen.io/mydata
All contributions via screen.io are collected anonymously and processed by researchers. Contributions will be used in the future personal data management research and dissemination.
Session host will be taught how to use the system before the conference.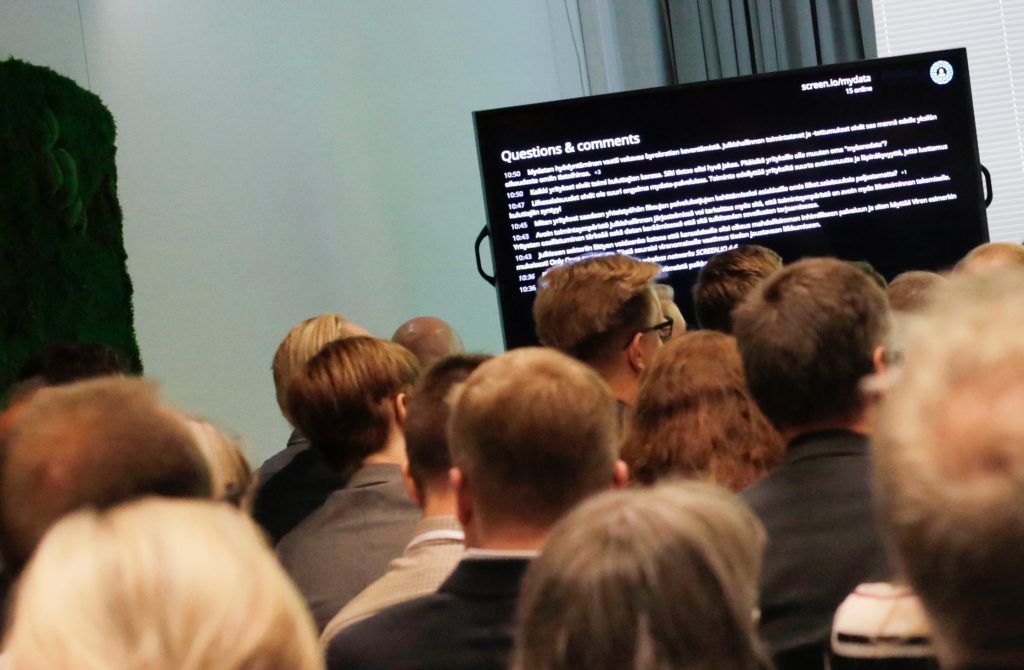 Generally about Screen.io

Inputs, replies and images are made anonymously. However, Screen.io uses cookies to stop people being able to reply to polls multiple times.
The tool does not require installations, but is completely web-based and mobile-optimised.
A chat wall and extended Q&A

In the chat the audience can write their ideas, comments and pose questions for the presenters. Hosts can pick questions and highlight them on the big screen during the Q&A.
For hosts it is recommended to pick questions both from Screen.io and also directly from the audience.
Polls and voting

The Screen.io tool can be used also for making polls and votings.
In polls, the audience picks one (or multiple) answer they think is the best from a pool of answers set by the presenter. The responses from the audience show immediately on the screen.
In voting, the audience rate pre-set answers with scale 1-5. The responses from the audience show immediately on the screen.
During the Conference
Plan your questions before hand and make sure they are in the system before your session by coming 30 min before your session to the room to get guidance on how the Screen.io works and check all the other practicalities.
Track facilitators will help the presenters and session hosts to set these interactions ready to the tool and manage the flow during the sessions (show right interaction at the right moment for the audience).
Lessons Learned section (5 min. in the end of each session)
In the end of all sessions, we are going to ask one question: What were the core lessons learned in this session?
Here both the presenters and the audience can summarise the core lessons learned or highlights of that particular session. The highlights are collected from the presenters in advance and from the audience during and after the presentations. In the end, audience members will peer-evaluate the suggested lessons learned on 1-5 scale in terms of their perceived importance and interest.
Presenters: Think of 1-3 highlights or core lessons from your presentation and be prepared to type those into the Screen.io system (with help of track assistants) before your session starts. A good highlight is brief and clear formulation of the message your presentation aims at conveying. Try to keep each highlight in about 100 characters – a tweet like, but shorter (no need to use #hashtags, however).