Important Dates Checklist for Presenters
BY 1 SEPTEMBER 2019

Conference registration. All session hosts – please note that you should have received the instructions for a free registration from your track facilitator. Please get in touch with sille (at) mydata.org if you don't have them!

Book your travel and accommodation for Helsinki (RECOMMENDED ASAP)

. Due to Finland's EU presidency, especially accommodation is selling out across Helsinki quickly.

→ We recommend arriving in Helsinki on 24 September to join the informal social get-together in the evening and for attending the full day of Opening Day events on 25 September

→ We recommend leaving Helsinki on 28 September at the earliest to be able to enjoy the full content until 19:00 on Friday 27 September and of course to join the conference afterparty!

BY 8 SEPTEMBER 2019

Website visibility: Visit the session check page:

Check that

your presentation title

is visible and correct on your session page.

→  If missing or incorrect, submit your (updated) title here.

Check that

your presenter bio

is complete and visible on your session page

→ If missing or incorrect, submit your (updated) presenter bio here.

If you have

any other questions

about your website visibility, please email programme leads viivi at mydata dot org & sille at mydata dot org.

ON 11 SEPTEMBER 2019 AT 5 PM CEST

Join the presenters' webinar:

Come meet the others and learn to use our audience participation tool screen.io as well as be inspired by some best practices for creating exciting and engaging presentations.

→  Join via Zoom ID: 9554413568

→  The webinar will be recorded and distributed for watching later if the time is inconvenient for you.

BY 22 SEPTEMBER 2019

Fill out this form to:

Report special needs for your presentation (See the basic equipment and layout for all session spaces here: mydata2019.org/venue)

Submit your presentation materials (slides, etc.)

Inform us of your publication preferences

We recommend that you submit this form at your earliest convenience. You may re-submit at a later date, 22 Sep at the latest, if there is a need to update the information you have given.
This is your event, help us make it the best possible together! We hope that you consider yourself a proud member of the big MyData 2019 team (we certainly do!) So please: share information about your participation in the MyData 2019 conference with your networks. We hope you use the presenter card template provided & tweet or share. Remember to use the #MyData2019 hashtag!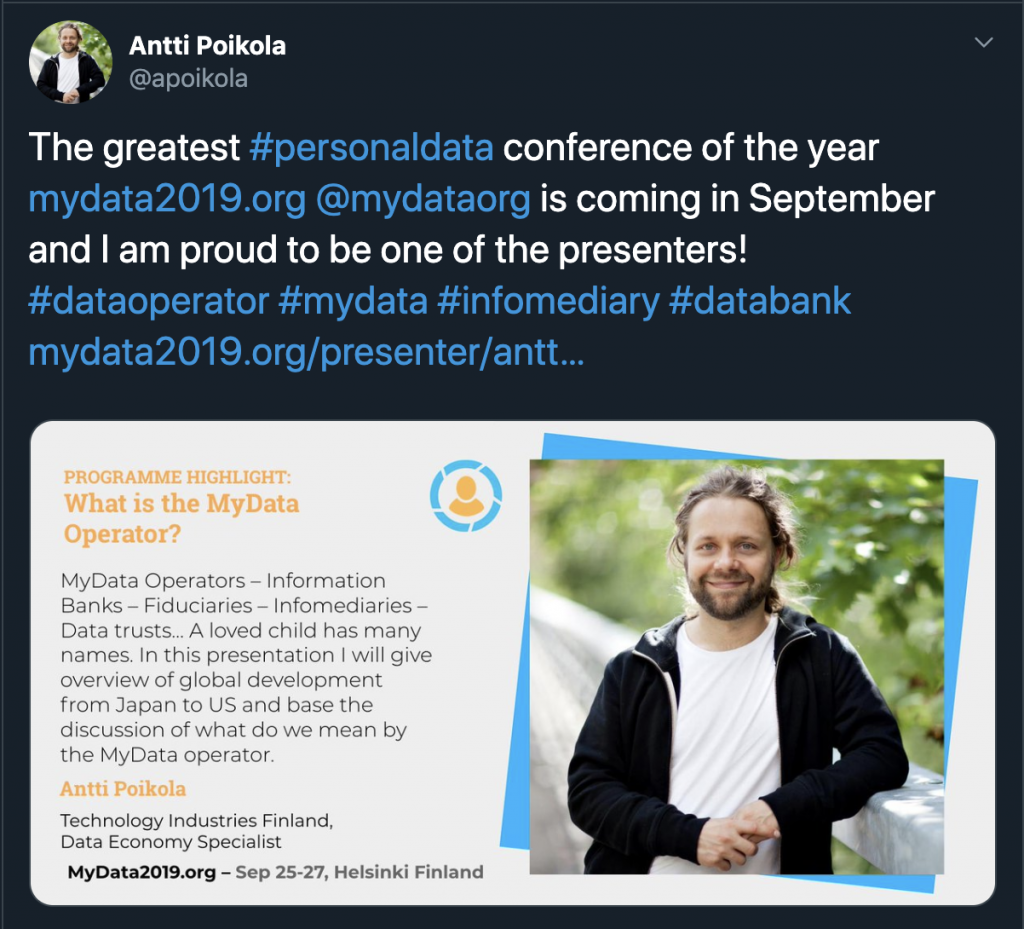 Frequently Asked Questions for Presenters
Where & when does MyData 2019 take place?
In Helsinki, Wanha Satama (Pikku Satamakatu 5), on September 25th – 27th.
The conference Opening Day is fulfilled with a number of exciting partner and community events. The main programme of the conference takes place on 26 – 27 September.
Who can participate in MyData 2019?
Everybody interested in the future and present of personal data. In 2018 there were over 800 participants to the MyData conference, with various backgrounds: companies 50%, government 20%, NGOs 10%, research & education 10% hackers & activists 10%. The same groups (and more) are expected in 2019.
My suggestion got included in the programme – what should I do next?
Short answer: upload your photo and bio via https://events.mydata.org/presenter-form and wait for the session host to contact you.

The programme is divided into topic tracks with individual sessions which can include several presentations, discussions and workshops. Each session will have a host who will contact all the presenters of that session in order to build a coherent session (different content fit together), decide timing (how to use the available 60-75 minutes) and to create a short and catchy session description.
In what session (day and time) my presentation will be?
We have allocated all content proposals to one of the breakout sessions that can be seen here: https://events.mydata.org/programme-page/. There may still be changes and that is why we ask to inform if you have scheduling restrictions.
How long time will I have for my presentation?
This depends on the format of your proposal. In practice, your session host will connect you with the other presenters in your session and you will decide the order and timing of your session together to ensure a smooth and mutually agreed upon session flow.
In general, the sessions are 60-75 minutes long (with some workshops being allocated a double session) and they usually contain 2-4 presentations and/or other pieces of content.
Who else is presenting in my session?
Depending on your submission, your proposal might be accompanied by complimenting presentations or discussion. Your session host will be putting you in touch to agree on the overall flow of the session.
How many people will be in the audience and with what backgrounds?
The capacity of the session rooms varies between 80 and 350.

We are expecting roughly 500 people present during each conference day and there are six simultaneous breakout sessions at any given time apart from the morning and evening plenary sessions.
The backgrounds of MyData conference attendees are diverse and range from business, tech, legal, to society at large. The audience at MyData conferences is largely professionals with expertise in some aspect of personal data, so be prepared to engage with and learn also from them!
Do I need to buy a ticket to the conference if I am presenting?
Yes, all presenters will have the cheapest ticket price.

The conference is run on a nonprofit basis in the spirit of academic conferences where peers gather to share their knowledge and learn together. The income of the conference comes from our ticket sales (roughly 40%) and our partners (roughly 60%). This year, like in previous years, we're welcoming over 100 presenters to the conference and this is also why we ask you to buy a ticket to cover venue and catering costs for all of you!
We're inviting a person to join our session, do they have to pay for a ticket as well?
We welcome all presenters with the heavily discounted ticket price, see the question above. All people attending must register for the conference by purchasing a ticket.
Can I still change my title and abstract?
Yes, please let your session host know about your changes and they will update us accordingly. Please keep in mind that we publish the full programme on 10 June and any further updates after that should be carefully considered.

Note also that after 10 June all updates to titles and abstracts are added manually to the web and will take a little bit of time to go live. Thank you for understanding!
Can I ask people to pre-register for my workshop?
Yes, we can ask the conference attendees to pre-register to your workshop or session if you'd like. Please discuss this with your session host who will update the team and have the registration set up for you.
I need help with tuning my presentation according to the conference overall focus and profile of the conference attendees.
No worries, the session host is there to provide support in crystallising the overarching objective for the session as well as support you in tuning the chosen format.
.